Iceland is one of the most expensive countries and so is Reykjavík one of the most expensive capitals. The cost of a-week-long trip can cost you an astronomical amount of money. And since not everyone is willing to spend life long savings on a trip, I wrote this article explaining how to save money and still enjoy in full.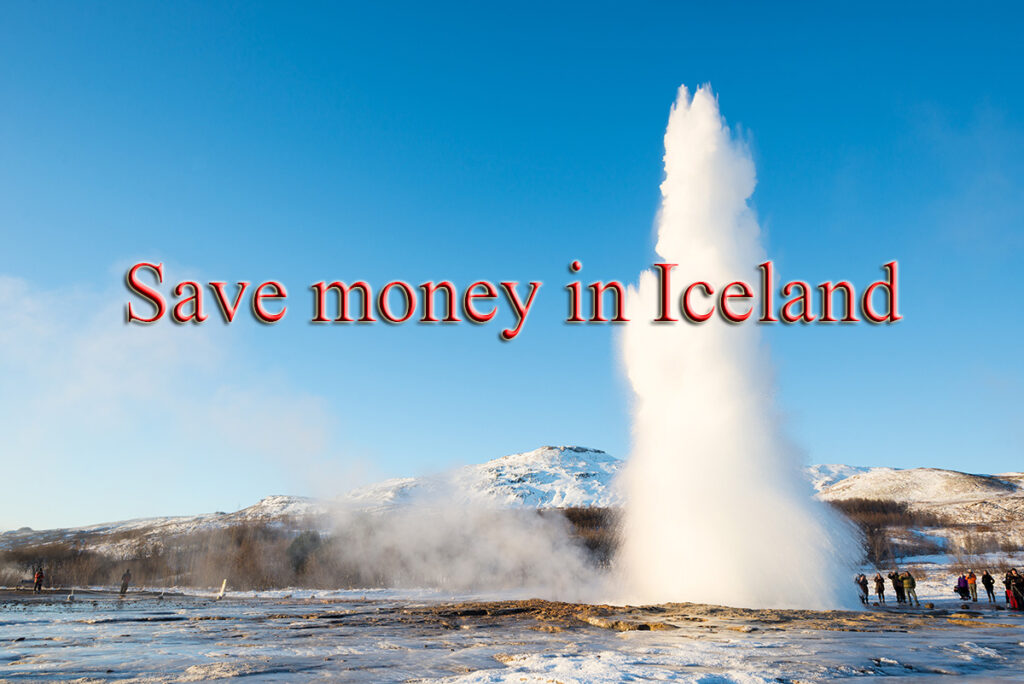 Go to Iceland off season
The main tourist season in Iceland is very short and very intense. More tourists visit Iceland between 1st of June and 31st of August than in all the other months combined. The Icelandic prices, being very high as it is, become even more inflated during this time of the year. On top of that, all the tourists are crammed in the most popular attractions around Reykjavík, in area called the Golden Circle, in part because the International airport Keflavík lies nearby.
Besides, Iceland in winter is even more beautiful than during the summer. For example, I wasn´t very impressed with Þingvellir during my summer visit but in winter it was simply great. During winter you get to see some of the places from a whole new perspective. And surprisingly, the temperatures in January and in June are not that different. Also, my last trip to Iceland in winter cost me only about 600 Euros for two weeks (flight ticket included).
When in the high season, do your reservations well in advance
In summer months, there is a real shortage of hotel/hostel/airbnb rooms. Do your reservations for summer months as soon as possible. Yeah, even 6 months in advance. You´ll have a much better options and you´ll save a significant amount of money!
Make your own travel plans
Use an easy online travel map of Iceland and save significant amount of time and money (and gas) to see what YOU want to see.
Discover Iceland in your own car or caravan
Europeans have the advantage of being able to bring their four-wheeled darling to Iceland thanks to the services of Smyril Line ferry. Ideally, you can agree with your friends or family to pass the car around so that when one group leaves the other flies in and takes over the car. The car can stay in the country for up to one year without having to change to Icelandic license plates. During the year the car can manage to save up to its own worth in cost of car rental, since renting a car of the size of Skoda Octavia cost 11900 ISK, smaller one 7650 ISK/ day. And if you do the same with, say, Land Rover Defender, you just saved enough to buy a house! A car like that is usually rented for about 49 000 ISK/ day.
Find alternatives to car rental
There are multiple companies which allow you to rent a car from the locals, something like an AirBnB, but with cars instead of apartments. You get to choose between Carrenters or Caritas. If you do decide to rent a car from an official rental company, make sure to go through multiple offers between choosing the most suitable one. My article on cheap rental companies will help you wrap your head around the whole thing.
Hitchhike in Iceland
If you don´t want to or can´t travel in your own car, the alternative is hitchhiking. There is basically only one road going around the entire island so potentially every other car is going "your way". The online alternative to traditional hitchhiking is car sharing using the website Samferda or the Icelandic version of Carpoolworld, although this way you will have to pay for it.
Skip the Blue Lagoon
Even though the Blue Lagoon is one of the most iconic tourist attractions of Iceland, I believe you won´t miss much if you skip it. A similar nature bath can be found in Mývatn and it is in my opinion much better than the Blue Lagoon (and only costs about a third of its price). There are plenty of places in Iceland where you can swim in thermal hot water. They are often for free and without the ever-present German pensioners you will have a much better experience. The reason why the Blue Lagoon is so popular is not so much the bright blue water but rather its proximity to the airport. Basically anyone who has a two hour layover at Keflavík decides to go there. So make sure to enjoy the beautiful Icelandic nature with its hot thermal springs. Here you can be found the list of hot springs, streams and lakes in Iceland.
Discover the "free" Iceland
There is so many beautiful natural sights that it might be a bit unnecessary to pay extra for any sights or services. The whale watching tour is as one of my traveler friends puts it " the biggest tourist scam ever". There are also some places that you need to pay to enter, one of them being the Vestrahorn (800 ISK), where you pay to enter a private property and watch the rocks. Photographer´s favorite place to go. Alright, it´s nice but nothing special so you can also just skip it. Another one is Kerið (400 ISK), a volcanic crater, which makes sense to go to in the summer, since for "Icelandic prices" it costs basically nothing, but it makes no sense to pay for it in winter as the place and its colorful rock are all covered in snow. Look at this online map of Iceland.
The cheapest petrol
Petrol in Iceland costs basically the same everywhere, you can get one liter for about 228 ISK (diesel is on average cheaper by about 10 ISK). There is another cheaper option called OrkanX, where you can buy a liter of petrol for 175 ISK. There are only 8 gas stations like this, here is their location. Rumors says that at Costco, you can buy one liter just for 210 ISK (with Costco card – actually you can take your own from abroad, if you have one!). You can check actual prices of the petrol here.
Shop in Krónan and Bónus (on Nettó) supermarkets
These two supermarkets are in Iceland synonymous with bargain grocery shopping. But be aware that they are not at every corner, you can find them only in "large" cities (on an Islandic scale). To be more exact, east from Selfoss, in which you can find both of them, is the next one located in Reyðarfjörður / Egilsstaðir, which are cities about 450 km far from Selfoss. Bónus is generally smaller, a bit cheaper and with a bit more narrow selection of groceries. Krónan is not significantly more expensive plus you can buy good quality bread, which is impossible to get in Bónus. Also, they have quite good fresh meat. And if you cannot find Bónus or Krónan, look for Nettó!
I would also like to add that the permitted amount of groceries that you can bring to Iceland is 3kg per person. Also, the import tax must be paid and it amounts to 85 ISK / kg. So, it doesn´t pay off to bring cheap groceries such as rice or pasta. Besides, these cost basically the same as in continental Europe and so do juices, Coke and fish. I am not sure what the reason is but it is also not allowed to bring "uncooked" meat. Make sure to leave the prosciutto and jerky at home.
TIP: there is a newly opened Costco gigamarket, where you can buy things even cheaper. Only thing you need to buy things at Costco shop in Reykjavík is Costco card, which cost 4800 ISK/year and to be able to buy one, you need a kennitala (if you do not know what it is, you probably don´t have one). But you can use your Costco club card from abroad as well!
Buy your clothing in sale
Even though the best tip on how to save money in iceland is to go off season, the majority of you will come during the summer season. For your trip, you need a wind and waterproof wear, which you can find in sales after the winter season. Why not to save 70% off the price even before landing in Iceland?!
The supermarket where everything is for free
You can find a lot of almost empty (or almost full) camping gas cartridges in most of the camps. You can also find other stuff travelers left behind, especially ramen noodles, olive oil, pasta, rice, salt and things like this. The camp in Grindavík is the best when it comes to left behind stuff, there you can find basically everything. The fact that it is located close to the airport means that many travelers leave behind things that they don´t need anymore when leaving the country (or might even not be allowed to bring on board of the flight with them). Apart from gas cartridges it is generally copious quantities of food, but also sleeping mats, stuff for BBQ and last time when we stayed there for three days I even saw a tent and two cans of BEER! Really!
Alcohol is a drug
And it seems like Icelanders are pretty firmly on board with this. If you can´t make it without any drinks or want to get a bit tipsy during your stay I suggest it is best to actually bring the alcohol with you. Apart from the fact that alcohol is crazy expensive, it is also quite hard to get your hand onto. For example, in a supermarket you can´t get anything stronger than a 2,25 % beer. The permitted amount of alcohol depends of volume in the different drinks you will bring with you. In any case it 1 liter of 40% liquor, a bottle of wine and 6 small beers would be just within the permitted amount. It is even more complicated with cigarettes and tobacco (but who still smokes today anyway, right?). Here you can find the complete list of limits for duty-free import to Iceland.
Save money when sleeping in camps
In case you are planning to sleep in camps during your stay in Iceland it might be a good idea to have a look on so called campingcard. You can get it for 18 900 ISK (2017) and it lets you (and one more adult plus up to four children) stay in various camps for 28 day. There are 42 camps quite evenly dispersed all around Iceland. Apart from paying for the card, you need to pay a fee when you stay at a given camp, which is 111 ISK / night independently from number of people who are actually staying in the camp. If you travel with a buddy the card pays off after only 6 stays (since the average price per person per night is 1500). So, the remaining 22 nights you can basically camp in camps for free.
TIP: there is a camp in South west Iceland – Gata campsite, where you can camp completely for free (donations of course accepted).
Wild camping
The situation with wild camping or even spending a night out of designated area is bit complicated. It is not impossible, but before you pitch up a tent in Iceland, please read this article.
Reykjavík city card
If you get trapped for any reason in Reykjavík, the reykjavík city card can save you quite a lot of money and take you to places you´d never go without it. It can offer you for 24/48 or 72 hours a free entry to many of Reykjavík museums, to the ZOO, free ride to Videy island, free public bus transportation and free entry to Reykjavík thermal pools and saunas. It is really a magic card! You can read more and buy it here.
Volunteer in Iceland
There is always something to do in Iceland. But volunteering as you can know it from abroad is not legal here in Iceland. If you work for someone, you have to get paid.
If you are eager to help in Iceland as a volunteer, you can do it only in a non-profit organisation (Red Cross and similar).
For more info about volunteering in Iceland, please visit this website.
Groupon like icelandic websites
Groupon, once the mogul of the startup and internet world is not active in Iceland. Still, there are 2 Gropon-like websites where you can find bargain deals. Look at Hópkaup and 2 fyrir 1 (where you usually pay once for 2 and last but not least – Aha
With sincere greetings from the Gullfoss waterfalls,
Ruben